OUR OFFICE USES ADVANCED TECHNOLOGY TO AID IN ACCURATE DIAGNOSIS, GENTLE AND EFFECTIVE TREATMENT, WHILE DELIVERING
AN EXTRAORDINARY EXPERIENCE FOR PATIENTS.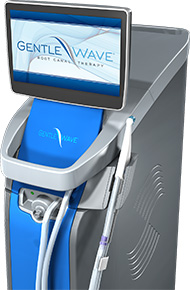 Revolutionizing Endodontics
We have invested—and continue to invest—in the best technologies in the market today. This includes the GentleWave® system, which uses multisonic sound waves combined with continuous irrigation to clean and disinfect the root canal network and conserve tooth structure. Procedures are completed using the new A-Series™ Global microscope, improving magnification and illumination to deliver the highest quality care and most predictable outcomes for your tooth.
The majority of our x-rays are captured using XDR digital radiography (or 2-dimensional images), which are digital x-rays similar to what you have taken at your dentist's office. In more complex cases, we gather more information using the J. Morita cone-beam computed tomography (CBCT or 3-dimensional images) which captures high-definition, comprehensive scans in just seconds. CBCT scans provide more information than conventional dental x-rays, allowing for more precise treatment planning.
When dental professionals refer patients to Wiseman Endodontics, they have peace of mind knowing their expectations will not only be met, but exceeded. Our philosophy is about implementing evidence-based practices to ensure better outcomes for patients. Saving teeth is what we do. Here's what you'll find in our new Sioux Falls location:
In May of 2015, the American Association of Endodontists and the Academy of Oral and Maxillofacial Radiology released a joint position statement on CBCT. Download it here, or learn more on the AAE website.